The Sheptytskyi Brothers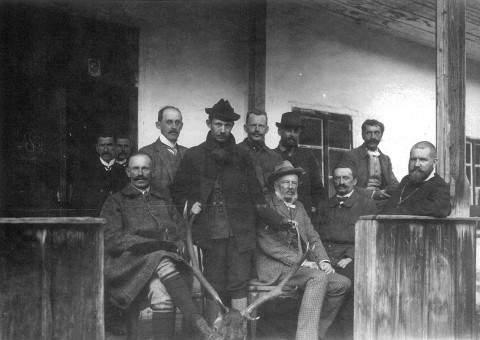 The Sheptytskyi brothers with their father and friends in the village Perehinsk in 1909.
During the Ukrainian-Polish conflict in Galicia, many ethnically and religiously mixed families faced complex internal trials. One such example was the Sheptytskyi family.
Count Jan Szeptycki (Sheptytskyi) and his wife Zofia Szeptycka, née Fredro, had five sons: Roman (1865), Aleksander (1866), Stanisław (1867), Kazimierz (1869), and Leon (1877). Each brother made his own choice of national and religious affiliation still before the First World War. However, it was the Ukrainian-Polish war that, to a certain extent, made their choice irreversible.
Andrey (Roman) Sheptytskyi became the Lviv Greek Catholic Archbishop and Metropolitan in 1901, Klymentiy (Kazimierz) was a monk and, later, hegumen of the Greek-Catholic congregation of Studite monks; their national orientation was Ukrainian. Aleksander and Leon were landowners who were not engaged in political affairs and adhered to Polish identity. Stanisław, a Major-General of the Austro-Hungarian Army, was in command of the Third Brigade of the Polish Legions and headed the General Staff of the Polish Army from November 1918 till April 1919.
During the Ukrainian-Polish war, the Sheptytskyi brothers tried to support each other despite different national guidelines. In November 1918, Leon tried to transport foodstuffs from the family estate in Prylbychi to Lviv for his brothers Andrey and Klymentiy. When Metropolitan Sheptytskyi was arrested by the Polish authorities because of his clear pro-Ukrainian position, all the brothers made every effort to release him. A special role was played by Stanisław, one of the chief military figures in Poland at that time.
In general, it must be said that, in the most difficult moments, the Sheptytskyi brothers favoured Christian principles and family values ​​over national ones.
The Sheptytskyi Brothers