Double Loyalty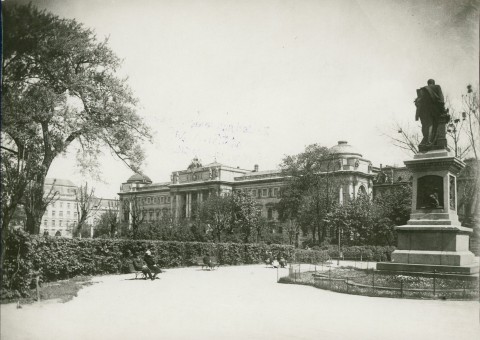 The Galician Diet building. On the right, the monument to one of Galician Governors, Agenor Gołuchowski
On the eve of November 1918 both Poles and Ukrainians followed the tactics of double loyalty. No one was making sharp anti-imperial movements, realizing that the monarchy lived through its last days. The Lviv Poles waited: the most important events took place in Warsaw, so the takeover of the capital of the Galician province to the future Poland was only a matter of time for them. There was no disagreement in the Polish political camp that the Poles needed to keep calm in the city and in the province in order to easily integrate them into the united Polish state. Many of Lviv's buildings were decorated with white-red flags and the police noted the enthusiasm of the Polish population. The National Democrat Stanisław Gląbiński and even the Social Democrat Ignacy Daszczyński stated in the State Council that they already felt like Polish citizens. Only the Krakow conservatives did not want to burn their bridges with the Habsburgs. However, in the general sea of ​​deputies their voice was quite scanty.
The magistrate, whose members were mostly Poles, avoided direct confrontation with the Austrian government institutions and the military. Its members were interested in the transfer of power held quietly and peacefully and in the maintenance of public peace. Until relations with the central Austrian authorities were settled, the magistrate recognized all their previous orders. Finally, it declared itself a "wall" of the republic and decided to send a delegation to Warsaw to welcome the Regency Council.
Ukrainians instead categorically rejected the option of annexation of Galicia by Poland and began to develop a plan for proclaiming their own state. If the Poles all wanted independence, Ukrainians were divided. The National Democrats planned to follow the Austro-Hungarian version. Having declared their independent state, they considered the confederative version of the personal union with the Habsburgs. Instead, the Social Democrats categorically rejected this option, demanding the immediate accession of Eastern Galicia to Ukraine. As a result, another Ukrainian state was proclaimed — the Western Ukrainian People's Republic.
Despite the fact that the ZUNR in Lviv was immediately attacked by the Poles, and the Ukrainians had to defend themselves, the Ukrainian political leadership did not want the war, desiring instead to preserve the status quo for a fair solution to their national issue by international peace organizations.
Double Loyalty