Rules and Security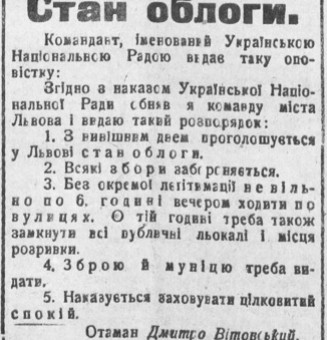 Message about the "State of Siege" in DILO newspaper from November 3, 1918. Signed by Dmytro Vitovskyi
In the first days of November, Ukrainians took over the management of administrative bodies, including the Police Directorate. On November 1, Stepan Baran, a Ukrainian lawyer and public figure, took over the management of government acts and treasury, and the leadership of the Security Service was taken by counselor Sukhanskyi. Given the real fighting on the city streets, the new administrators introduced specific rules of conduct for the residents. Free movement in the city was limited to 18:00. Coffee houses and taverns also had to be closed until 18:00. It was forbidden to carry weapons: "All weapons should be delivered to the police department in the hands of an officer of the Ukrainian army." From inhabitants it was required to adhere to "full tranquility." Passes for moving through the city could only be obtained at the police directorate.
To ensure peace and order in the city, the Ukrainians and the Poles agreed to set up a joint committee of 24 representatives, 12 from each side. An appeal to the citizens with calls to avoid aggression was published in two languages. But, as the Dilo wrote, the committee's activities were stopped because of the national ambitions of both peoples. To ensure peace and order on the streets where Jewish people lived, with the assistance of the Zionists, special militia, recruited from the Jews, were created. The committee urged the latter to strictly adhere to neutrality. These orders significantly reduced the movement of people in the city, who mostly preferred to remain in their homes.
From November 26, the Security Committee, headed by Wit Sulimirski, was involved in matters of the maintenance of order and tranquility. It included the Municipal Public Guard and a paid City Police. From this day on it was forbidden to move around the city without a permit after 22:00, the gates of the houses could be opened from 6:00 to 18:00, the shops were supposed to work from 8:00 to 16:00. These bodies were also responsible for the revisions of apartments, which were held from 8:00 to 16:00. In critical cases (usually political ones) this instruction could be changed. The population had to deliver military ammunition to the police. Sporting guns were not removed from the owners if the latter had a Security Committee authorization.
Rules and Security