Communication and Information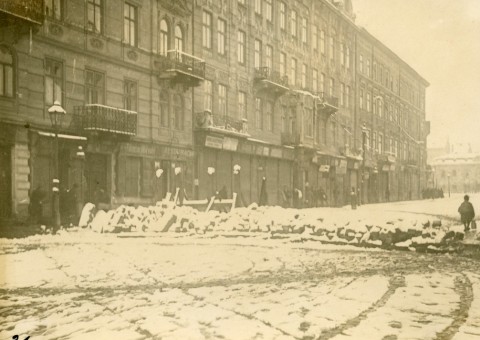 Barricade on present-day Horodotska street
With the start of hostilities it was necessary to look for ways to organize the further functioning of the city where 200 thousand inhabitants lived. To inform the population, the sides issued addresses, announcements, and appeals. At the same time, there were newspapers that supported their national camps. The Ukrainians did not ban the activities of Polish newspapers on the Ukrainian-controlled territory, considering it a token of their level of civilization on the eve of the World Peace Conference. Subsequently, this fact was considered one of the main causes of defeat.
In order to solve the food problem, in addition to ceasefire, they worked with suppliers, organized field kitchens for the poorest; the Food Administration and the Food Board on the Ukrainian side tried to organize the work of groceries and delivery of products from Ukrainian villages through modern Lychakivska and Khmelnytskoho streets. The Poles acted on their territory in a similar way, receiving foodstuffs from Polish villages. The Jews of Lviv, obviously, could not count on the support of the peasants, so the food crisis was most serious for them.
Telephone and telegraph communication in Lviv were also interrupted. The battles that took place at the main post office prevented normal communication with the outside world. This was reflected not only in political affairs, but also in the daily lives of the inhabitants. People who found themselves in a blocked city could not inform their relatives in the province about their situation. Accordingly, they also did not receive information from anyone. The press worked with interruptions. The editions were distributed from hand to hand if there was an opportunity to get out of home. This situation gave rise to a lot of rumours. Due to lack of or delayed provision of information, people lived in a condition of uncertainty and misinformation.
Communication and Information