Provision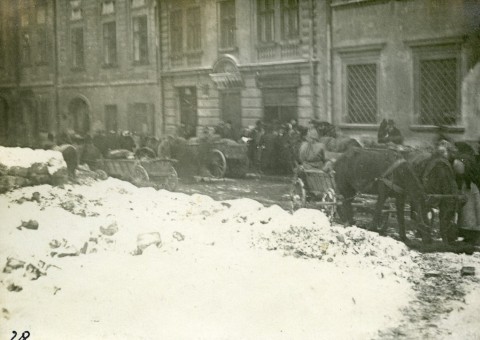 Products taken to the Food Board at Bliakharska street (now Ivana Fedorova). From the collection of Stepan Hayduchok
The hostilities paralyzed the city and caused supply problems and a rise in prices of essential goods. The work of the shops became irregular. There were incidents when orders were issued simultaneously for the traders to open all the shops in the Rynok Square and for the prohibition of free movement in the area, which did not allow traders to access their shops. The regular work of the shops was disrupted by the lack of special permits, so the traders were often forced to stay at home. Women from nearby villages stopped bringing foodstuffs to Lviv because of the lack of normal transport connections and the threat of getting into the epicenter of hostilities. The city's supplying was the responsibility of the Lviv District and City Food Board on Bliakharska street, 18.
The most scarse product in the city during the November events was bread. The Kurjer Lwowski reported that it was impossible to buy it on November 5. If one managed to find bread, its price was 10 crowns (for example, in 1915, a lunch consisting of three courses could be bought for about 2 crowns). Almost every day information on current prices of foodstuffs that could be set up by traders appeared in newspapers. Sellers were to be held liable for breach of the orders. Despite the official orders and attempts to fix the situation, people survived only due to home-made food supplies. It happened that they could not leave their homes for more than a week.
In November 1918, the shortage and high cost of foodstuffs was caused not only by fighting in the city, but also by the general situation with provision of food in the province. Due to the lack of workers (who were paid only 25-30 crowns per day), 2/3 of the potato and beet harvest in Galicia were not gathered. Because of an early fall of temperature and frost, the foodstuffs froze in fields or in open carriages bringing them to Lviv. Due to the lack of salt people were not able to prepare sauerkraut. So, during the winter, its price grew up.
Provision