Fights for the Citadel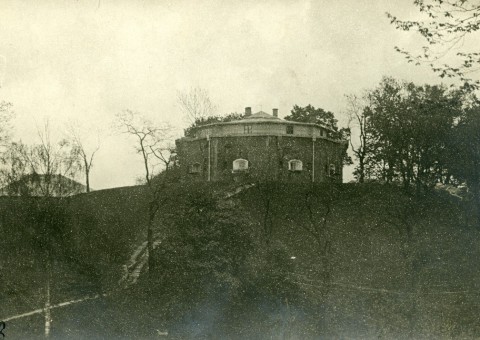 Citadel in the first days of November 1918. From the collection of Stepan Hayduchok.
Control over the Austrian fortress on the hill allowed to control the city center. On the eve of the First World War, the 30th infantry regiment was stationed in its territory, whose personnel was recruited from Lviv and the surrounding area. The Austrian authorities feared the Polish opposition, so as of 1918 the regiment consisted by 51% of Ukrainians and by 32% of Poles.
On November 1, the Citadel was occupied by a detachment under the command of lieutenant Tymotey Humovskyi, consisting of 3 officers and 55 Ukrainian-born soldiers and formed on the basis of the former Guard Battalion of the Austro-Hungarian Army. Already on November 3, the Polish detachment under the command of lieutenant Mond (about 30 people) tried to attack the tower number 1 from the tram depot. As a result of the battle, the Poles retreated, but the Citadel was half sieged. On the following day, the Sich Riflemen captain Osyp Bukshovanyi was ordered to take over the Citadel. In order to carry out the maneuver, he used the Staff and 46th hundreds, a platoon of machine guns and an assault platoon. Non-commissioned officer Lischynskyi noiselessly led these units through the Polish positions in the darkness and consolidated their positions on the Citadel.
The Citadel hill remained one of the most important strategic points of resistance. The Ukrainian garrison had to defend its foot from the side of the Ossolinski Institute, to make a sortie to remove a threat for the defenders of the main post office. Considering the Citadel as the key point of the Ukrainian defense, the Polish forces, trying to capture it, involved the detachments of lieutenant Bernard Mond and those of junior lieutenants Feldstein and Stark, reinforced with a cannon. However, their actions did not succeed.
On November 21, the Ukrainian garrison of the Citadel consisted of 276 men, including 213 (10 officers and 203 soldiers) in combat condition. Having kept their positions, they left the Citadel, in accordance with the order of the Chief Commandant of the Ukrainian army, Colonel Hnat Stefaniv, to evacuate the troops from Lviv, setting fire to their military ammunition depot.
Fights for the Citadel