Civilians During Conflict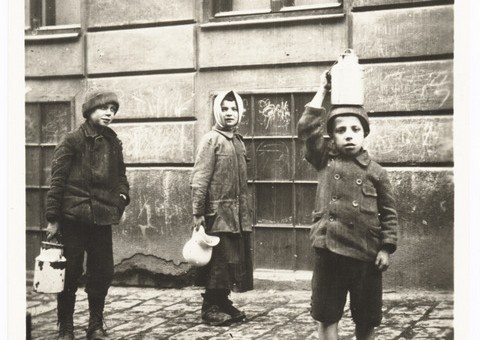 Children having received food after the pogrom. Source: YIVO digital archive
The declaration of the Ukrainian state took not just the Polish politicians and military, but also civilians by surprise. The practically bloodless coup d'état did not change the usual pace of life of Lvivians at first; the new administration was looking for a common language with the non-Ukrainian population. The national communities reacted differently. The Jews declared their neutrality and created their own militia under control of the Ukrainian power. The Polish saw this position as anti-Polish; Ukrainians considered it pro-Ukrainian. This led the Poles to commit an anti-Jewish pogrom.
The Polish fire on the Ukrainian patrols made evident the fact that an armed conflict is unavoidable. This conflict's particular feature was the participation of minors and women in it, as well as the fact that during the first days the Polish side fought in civilian clothes. The identification of those taking part in the fighting was thus complicated; this drew Ukrainians into a situation in which they were forced to use weapons against "civilians". A later analysis showed that of the 6 022 persons acknowledged as Polish "defenders of Lviv", 67.4% were under 25 years of age, 23.6% — under 18, 22.7% (1 374) were school or university students. About a half of them had no military background at all.
Peace negotiations paused the street fights only for short periods during which the Polish side was able to improve its positions. A lot of civilians got injured or killed in the fighting. There was a risk that the electric station or water pumps would stop functioning, e.g. due to shortage of coal. On the streets where the fights took place, the residents were in hunger and need as they could not leave their homes. The Jews were in the worst situation. Many of them were killed on the streets and remained unburied. Corpses lay in the houses. In the part of the city under the control of Ukrainians, life seemed safer and the supply was better, while in the Polish-controlled part shops and even apartments would get looted. The Jewish Committee on behalf of the Ukrainian administration took over the supply in the Jewish district, which alleviated the situation a little.
439 people died in the battles for Lviv on the Polish side. Among them 412 were Roman Catholic, 6 Greek Catholic, 1 Armenian, 2 Protestants, 6 Judaist. The denomination of the other 12 victims remained unknown. During November 1 – 22, 12 women died.
Civilians During Conflict