The Legitimacy of Power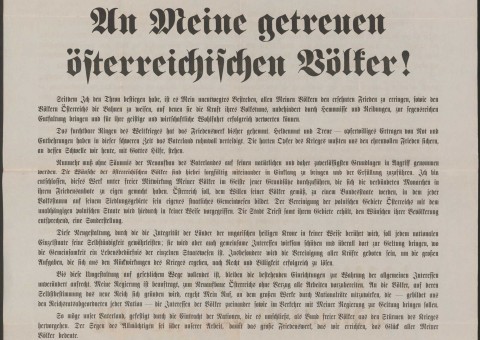 Charles I von Habsurg manifesto from 16 October 1918. Source: Austrian National Archive
The Ukrainian and Polish states, which were to be formed on the basis of the Manifesto of the Austrian Emperor Charles I of 16 October 1918 and of the "right of self-determination of nations," claimed partly on the same territory. This could not but lead to an open armed conflict. If the capital of the new Western Ukrainian state was to be Lviv, the capital of the future independent Poland was to be Warsaw. The both sides were united by their effort to legitimize the new government. In the case of the Poles, it was necessary to maintain the stable functioning of the old Austrian system in order to subordinate it to the then new government in Warsaw, and for the Ukrainians, Lviv and Galicia were to become the basis of the state. Most of the Ukrainian political leaders were Austrian lawyers, so it is clear why the only legitimate source of their future state was the Habsburg monarchy.
Both sides tried to take over the power from the Austrian governor of Galicia in a lawful way. The governor von Huyn did not want to violate orders from Vienna and tried to control the situation to the last, to ensure order and quiet in the province. On October 28 he appealed to the district administrators, stating his understanding of the approaching conflict of loyalties. However, he asked them to carry out their duties until the formation of the Polish state. At the same time, he stressed that the Ukrainians also had a natural right to self-determination.
The Polish Liquidation Commission appointed a start of measures to include the Eastern Galicia and Lviv in the Polish state on November 1. To overcome the Poles, on the night of October 31 to November 1, the Ukrainians carried out a coup d'état. The Ukrainian National Council announced that, according to the will of the Ukrainian nation, a Ukrainian state was proclaimed in the former Austro-Hungarian lands and that the Council assumes full power in Lviv and in the region. The Poles and the Jews were offered seats in the Ukrainian government and provision of all civil and national rights.
It was rumoured in the city that the governor secretly conveyed power to the Ukrainians and that this was a Ukrainian-German plot. Karl von Huyn denied this only on November 3. Before, on November 2, the governor found a decision on the legitimate transfer of power, passing all the powers to his deputy, Volodymyr Detsykevych till the formation of new executive bodies. The latter, referring to the emperor's manifesto, recognized the authority of the Ukrainian National Council and thus ensured its legitimacy. However, this had no influence on the Ukrainian-Polish struggle, because it did not matter to the Poles.
The Legitimacy of Power